Paris attacks: David Cameron offers condolences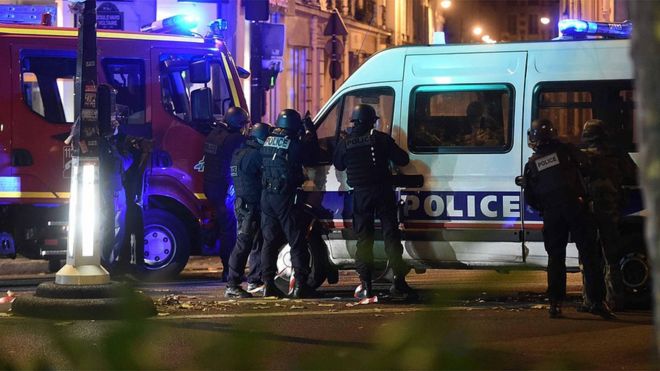 The Foreign Office says it is "urgently investigating" whether any British nationals have been caught up in the shootings or hostage-taking.
There will be "strengthened policing at ports" and more police at public events in the coming days, UK police said.
Met Police Assistant Commissioner Mark Rowley, national policing lead for counter terrorism, called for "vigilance" from the public.
Downing Street said the prime minister would chair a meeting of the government's Cobra emergency committee in the wake of the attacks.
Many public places in Paris have been closed in the wake of the attacks.
Transport to the French capital from the UK has been affected, with delays and fewer people choosing to travel:
Eurostar passengers are being advised to arrive an hour early to St Pancras International due to expected delays.
British Airways warns of delays to Paris flights due to extra security checks.
Air France also says delays are expected following the "reinforcement" of border controls.
Easyjet says flights are operating as normal, but passengers are asked to check their flights on the Flight Tracker page and to allow extra time for security checks.
The airlines are offering a variety of options for passengers who do not wish to travel to Paris.
BBC News correspondent Richard Lister, reporting from outside St Pancras International, said a Eurostar train which would have been expected to hold 700 people left the terminal with just 200 on board.
The French national stadium, where France were playing Germany, was among the venues targeted by attackers on Friday.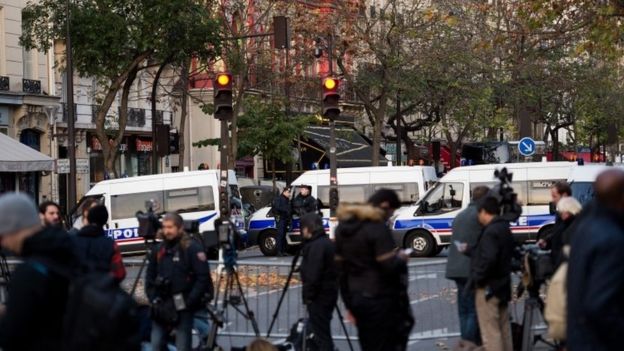 A statement on the band's website said the decision was taken "as a result of the ongoing state of emergency across France" but organisers were "fully resolved to go ahead with this show at an appropriate time".
People were shot dead at bars and restaurants at five other sites in Paris. Eight attackers are reported to have been killed.
Gunmen reportedly killed 80 people and took dozens hostage at the Bataclan concert hall, where US rock group Eagles of Death Metal were playing. The siege ended when security forces stormed the building.
He has declared a state of emergency and indicated he would tighten border controls.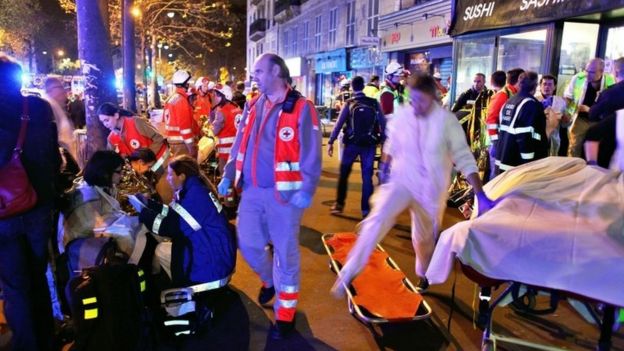 A Foreign Office statement said it was "very concerned" about the attacks, adding: "We are in close touch with the French authorities and are urgently investigating whether any British nationals are caught up in them."
It said people with concerns about British relatives or friends in Paris should call 0207 008 0000.
The Prince of Wales is to send Mr Hollande a message of "profound sympathy and solidarity with the people of Paris", a Clarence House spokeswoman said.